Carly Ciarrocchi signed up for a yearly contract as host of The Sunny Side Up Show on Sprout, the first 24-hour preschool destination available on TV, on demand and online for kids ages 2-5 and their parents and caregivers.  Along with her co-host, Chica the Chicken, Carly interacts live with preschoolers and their families across the country, as she shares daily birthday greetings, viewer-submitted crafts, fun facts and weekly themes ranging from colors, numbers and letters to manners, gardening and pets.
A 25-year-old actor who is originally from Wilmington, Delaware
A 25-year-old actor who is originally from Wilmington, Delaware, Carly began acting at age eight when she spotted an audition announcement for a community theatre production of Peter Pan in her local paper. She spent the next ten theatre seasons at the Wilmington Drama League, appearing in dozens of shows, including the Wizard of Oz and Into the Woods Jr. She also has six younger siblings, whom she cast in many "plays" that she "directed" growing up. After appearing in her high school's production of Godspell, she realized she wanted to pursue acting as a career.
Over the past several years, she has worked as an actor with Chicago's Steppenwolf Theatre, Collaboraction, Redmoon Theatre, 16th Street Theatre, About Face Youth Theatre and American Theatre Company.
In addition to acting, she has trained in improv at iO and at the Second City Conservatory, but also studied clown and physical theater with Chicago's infamous 500 Clown, Paola Coletto, Avner the Eccentric and Eric Davis, and abroad in Dublin with Philippe Gaulier. Carly also spent four years working in Early Childhood Education with Bubbles Academy, an enrichment center for children ages six and under, where she taught after-school yoga, preschool prep, music, creative movement and even a superheroes class.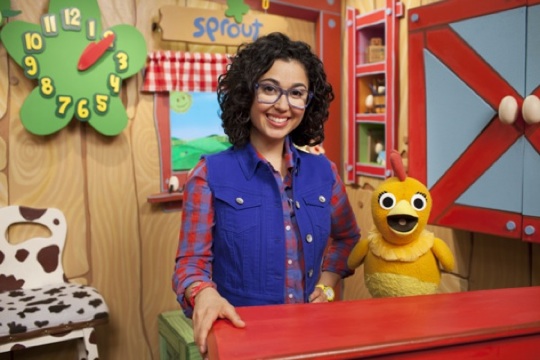 Airing every day from 9 a.m. – noon ET, The Sunny Side Up Show is television's only live show for preschoolers.

As host of The Sunny Side Up Show, Carly links Sprout's gold-standard, curriculum-based programs with live segments that create a warm, welcoming and fun environment where preschoolers and their parents can gather each morning to prepare for the day ahead and share birthdays, greetings, ideas, crafts and more.